About the DeKalb County Sports Hall of Fame
The DeKalb County Sports Hall of Fame was formed to recognize deserving individuals who have excelled in sports or sports-related fields of endeavor. Led by a volunteer board of directors, the Hall of Fame began honoring DeKalb's standout athletes, coaches, officials, journalists and other sports figures when it inducted its charter class in 1997. Following the induction ceremony for the Class of 2014, there are now a total of 95 honorees.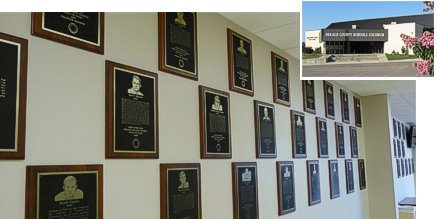 Wall of Fame. The Sports Hall of Fame honoree plaques can currently be found in the lobby of the DeKalb County Schools Coliseum (map).